Classes
---
Next Level is now offering group classes: High-intensity intervals, mobility work and yoga, every Saturday.
---
Intelligent improvements made consistently produce dramatic results.
At Next Level Sports Performance, our sole focus is to assess and improve the quality of your movement, with the goal of improving your quality of life. Next Level is exactly what we try to achieve with every human being that walks through our doors.

We utilize a training approach developed over 35 years of experience. This approach is based on the Japanese concept of Kaizen, which means to make small gains consistently. We achieve this by focusing on training progressions that get you safely to your strength and fitness goals.
If you move, we can help you move better.
We have been making Lawrence residents stronger and fitter since 1992.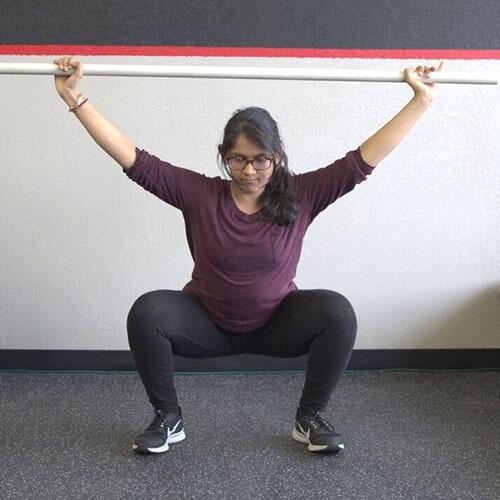 1. Movement Assessment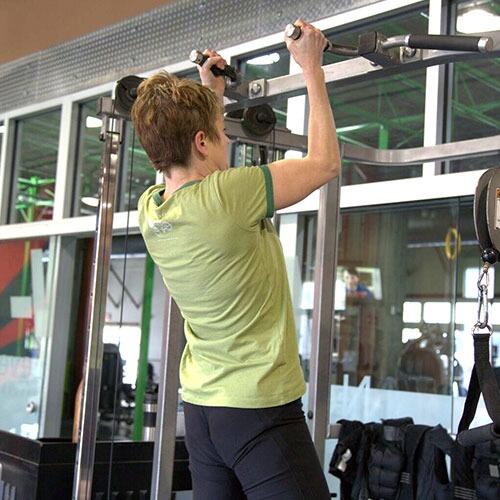 2. Programmed Training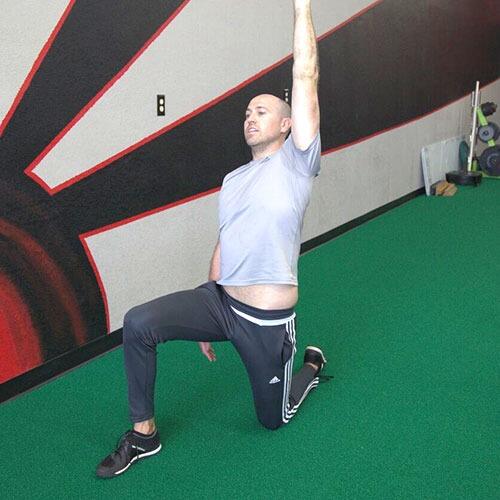 3. Diet, Recovery & Lifestyle
We are proud to lead the way in movement-oriented personal training and group classes here in Lawrence, Kansas.

We'll begin with a consultation to assess your goals, energy levels and life patterns. Next, we take you through a detailed Functional Movement Screen (FMS) that helps us determine movement pattern inefficiencies, and analyze your areas of strength and weakness.

This information allows us to build an individualized training program that addresses your specific needs and future-proofs your body. Your trainer will work with you step by step, coaching you through your program and making modifications or improvements as needed to bring out the best in you.

Finally, we will serve as your guide for nutrition and recovery to ensure that you progress toward your Next Level.

The Next Level approach is based on Charles Poliquin's methodology, and also includes techniques from Tony Robbins, Bruce lee, Steve Javorek and legendary strength coach Tom Cross.
We will create and coach you through an individualized plan to meet your fitness and lifestyle goals.
Our Clients
---
Our clients come from all walks of life and age ranges. We help young athletes earn scholarships and prepare themselves for a lifetime of success, and we help adults regain the quality of movement required to live their best life.
Meet four of our success stories, Dana, Michele, Emily, and Katie: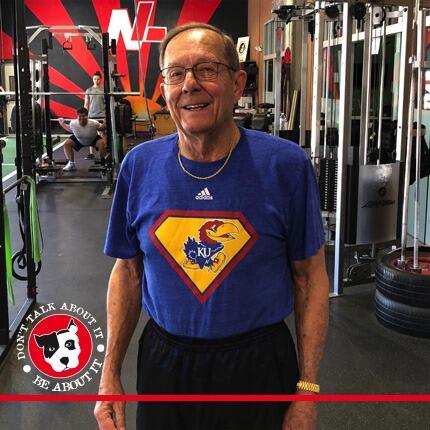 Dana Anderson
I started with my Next Level Trainer some 2 years ago, and the change has been dramatic. I have actually lost a couple pounds, while improving my muscle mass and tone — and it shows! I stand and walk taller, and enjoy a much higher energy level with greatly improved balance.

I am close to 84 years old and am often told that I look and move like I am much younger. I recommend Next Level without any reservations — it has been a life changer for me!
Michelle Loomis
I'm 73 years old and have trained at The Next Level Rising for more than ten years.  During that period, working with Chad Richards, I've grown stronger and more resilient.  Chad, along with Katherine Brumwell, has worked with me so that I've become increasingly fit, while never suffering any kind of serious injury.

The training has taken into account my age, while simultaneously pushing me to continually improve.  That may sound strange at 73, but it's true.  Chad and his staff relate to their patrons — young and old, athletes and not — as individuals and partners in the training process. 

Over the years I've witnessed lots of trainers, many very good, but none offer the all-around experience that Chad and his associates do.  As I do pull-ups, climb ropes, and push the Prowler, I can attest to Next Level Rising's continuing devotion to providing the best training in Lawrence and the region.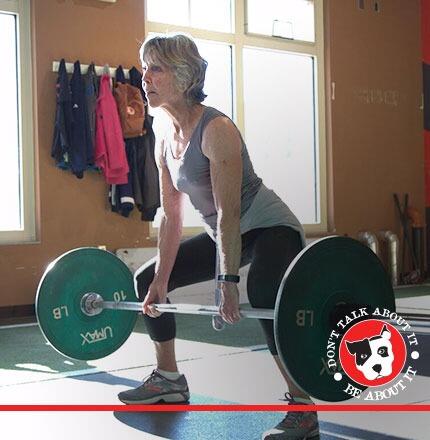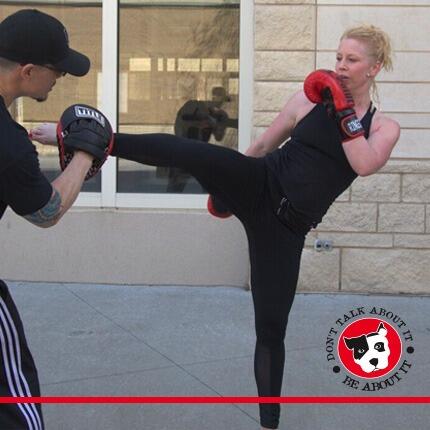 Emily Wiles
Chad and Next Level Rising came highly recommended to me for one-on-one Self Defense training, and with good reason. He's an outstanding educator in self defense technique, martial arts, sparring, physical training, and nutrition. His self defense instruction was tailored specifically to me, which is brilliant, and unmatched on a local level. His teaching style is realistic, technical, and thorough. 

I was aware that this process would take serious commitment. However, I was pleasantly surprised that after only a few months of training, my outlook on life changed. My anxiety levels dipped to an all time low. I've lost 40lbs, I've built lean muscle, and I've also discovered a deep connection and respect for Martial Arts. I can't thank Chad enough for helping me discover and cultivate my own strengths. He's an awesome catalyst — my metamorphosis is a testament!
Katy Davis
I was introduced to Chad via the Smart Strength program at Central Junior High School, run by Next Level Rising. Chad took me under his wing, and transformed an awkward Junior High student into a collegiate athlete. He challenged me and helped me to grow, all while keeping me healthy and injury-free. I owe my athletic career to Chad. There is no way my body would have endured that level of competition, playing every single set for three straight seasons, without his incredible guidance along the way.

Thanks to Chad and Next Level, I played volleyball at the University of Central Oklahoma, and made the American Volleyball Coaches Association All-America Team, the CoSIDA Academic All-America Team, won the UCO's Female Student-Athlete of the Year, the MIAA Scholar-Athlete Award, and made First-Team All-MIAA honors for three straight seasons. I helped my team win the MIAA conference championship and extend their season to the NCAA Division II National Tournament. 

I am forever grateful for Chad and strongly encourage any athlete who wants to advance to the next level to seek out Chad and his team at Next Level Rising.
Our Trainers
---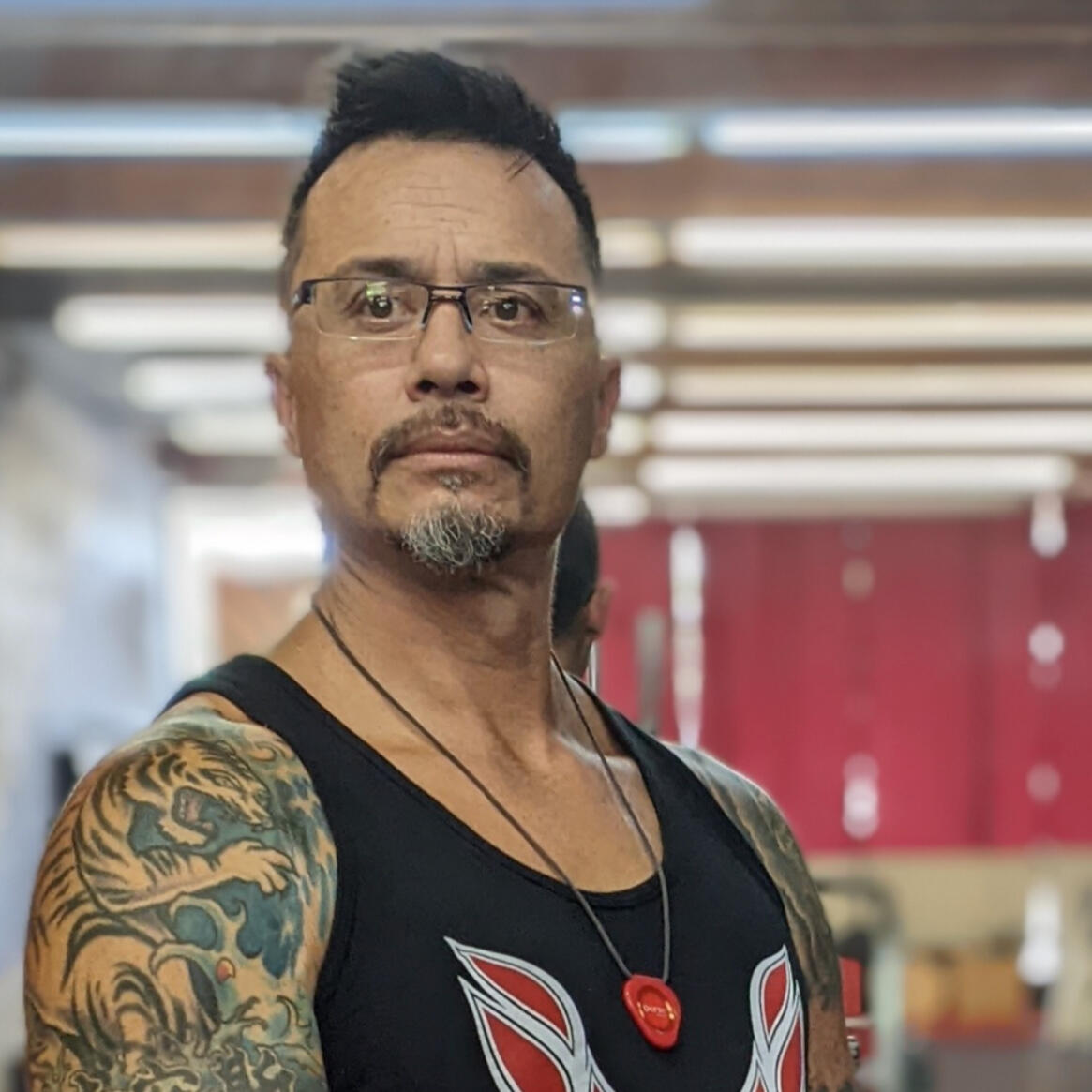 Chad Richards, Owner
Bachelor of Science, Exercise Science, University of KansasNational Strength & Conditioning CertificationUSA Weightlifting CertificationJeet Kune Do Level 1 CertificationPoliquin International Cetification Program- Level 1 and 2Biosignature Modulation
Training specialties: sports-specific training, team training / coaching, nutritional counseling, self-defense / boxing, post physical therapy, and biosignature modulation.

Chad has been a competitive athlete for nearly his entire life, starting with Karate competitions where he earned several honors. Chad also played Baseball and Football until the end of his high school career. During his time as a football player he began to find himself in the weight room, and has embraced it ever since. Chad has continued his education in the arts of self-defense with a certification in Jeet Kune Do, as well as training in the boxing arena.

Chad has been a Personal Trainer since 1997 and has worked with an extremely diverse clientele, including professional athletes.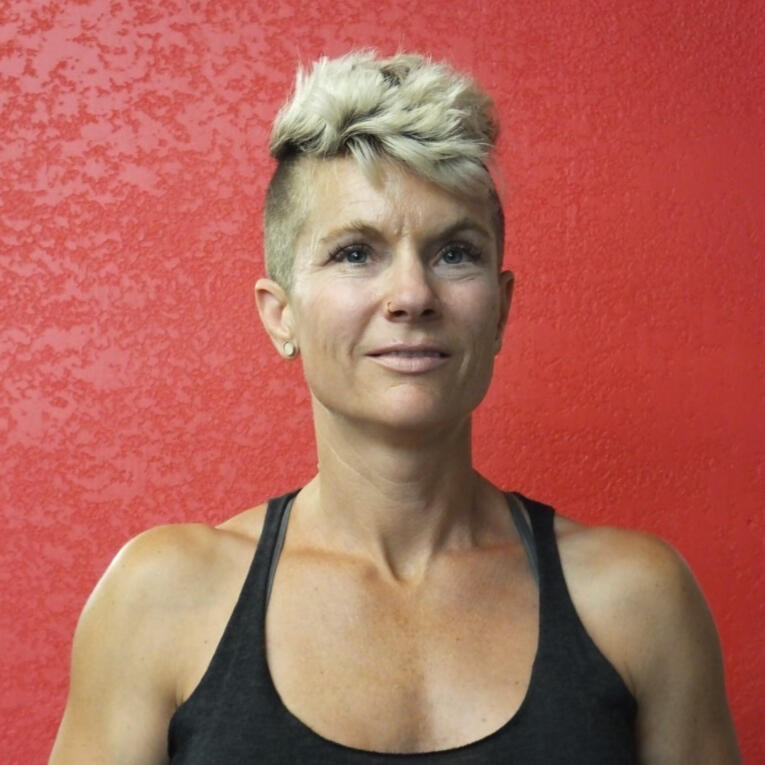 Laura Richards, Owner
B.S of Exercise Science with an emphasis in Sports Medicine, University of KansasBiosignature Modulation Certification from Poliquin
If it's something physical, Laura has either done it, or has plans to do it!

Laura has been a highly competitive athlete for the majority of her life, competing and playing sports such as Volleyball, Track, Softball, Roller Derby, Boxing, Martial Arts, and Cycling. She found competitive Power Lifting at a time in her life when she was struggling with the loss of her family at 16. Since then, sports and weightlifting has continued to be her preferred method of therapy.

For the last decade Laura has been competing in cycling, with an emphasis in Cyclocross Racing. She has also been busy as an innovator for Next Level, with the conception of many motivational trials such as the Next Level Lean Down, and the Next Level Games. In her spare time Laura enjoys trail running, rollerblading, rock climbing, painting, and playing with her son — who is also her continued motivation to remain in top physical condition.

Her Philosophy is that with truth, honesty, and hard work, nothing can stop you from reaching your goals.
Kevin Tietz
BSE in Exercise Science, University of Kansas
Kevin began his development as a fitness coach at a physical therapy clinic and has coached in Lawrence over six years. He developed a passion for helping people regain their physical fitness, especially those with limited experience or physical ability. His coaching experience ranges from the young athlete to the Parkinson's patient.

Now, Kevin serves full-time away from the fitness world as the Director for Young Life at the University of Kansas. There, he helps students discover who they are meant to be and live daily, ambitiously faithful lives. He is an avid reader, loves to learn, play sports, invest in people, and has a growing affinity for the outdoors.
Katherine Brumwell
University of Kansas, 2014NCSA-CPTACE Sports Conditioning SpecialistACE Therapeutic Exercise Specialist
Katherine's athletic background includes being a member of the Manhattan High Dance Team, and running the KU Fencing Club. She completed two half marathons, and then turned to weight training as a new challenge. She currently competes in USA Powerlifting, where she holds Kansas State Records for the Bench Press and Total in her weight class.

Katherine loves working with clients to safely and effectively build strength as well as confidence in the gym.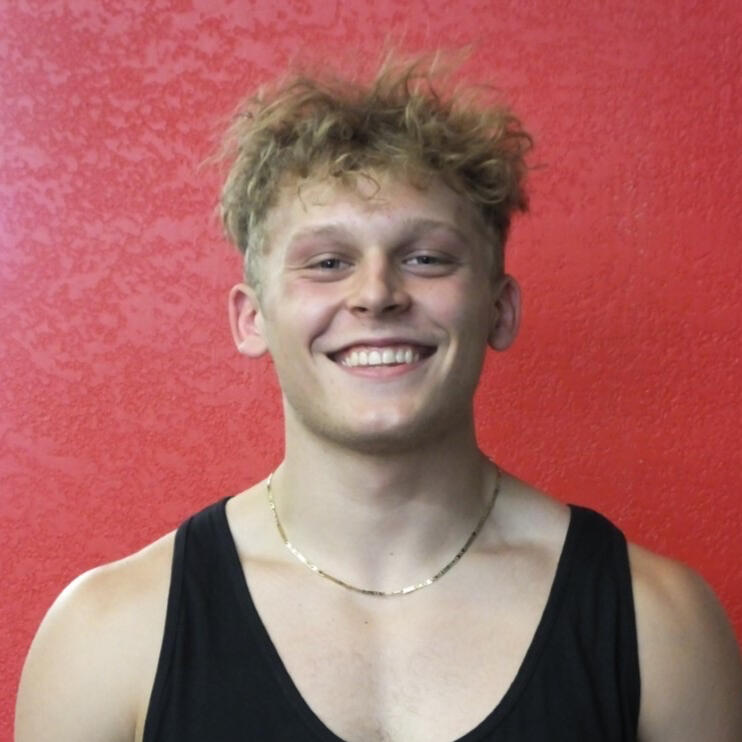 Haydn Neese
Bachelor of Arts, Exercise Science, Emphasis on Pre-Allied Health, Ottawa University
Haydn started playing competive sports in 6th grade when he was convinced to try out for the basketball team. He loved the thrill of competition, striving to reach goals, and self-improvement. This led him to weightlifting in high school, which in turn led to majoring in Exercise Science at Ottowa University.

Hayden finished his education by interning under multiple athletic trainers, physical therapists, and an orthodontic surgeon.

His specialities include: strength training, bodybuilding, body recomposition, injury rehabilitation (post P.T), group training, and sports-specific training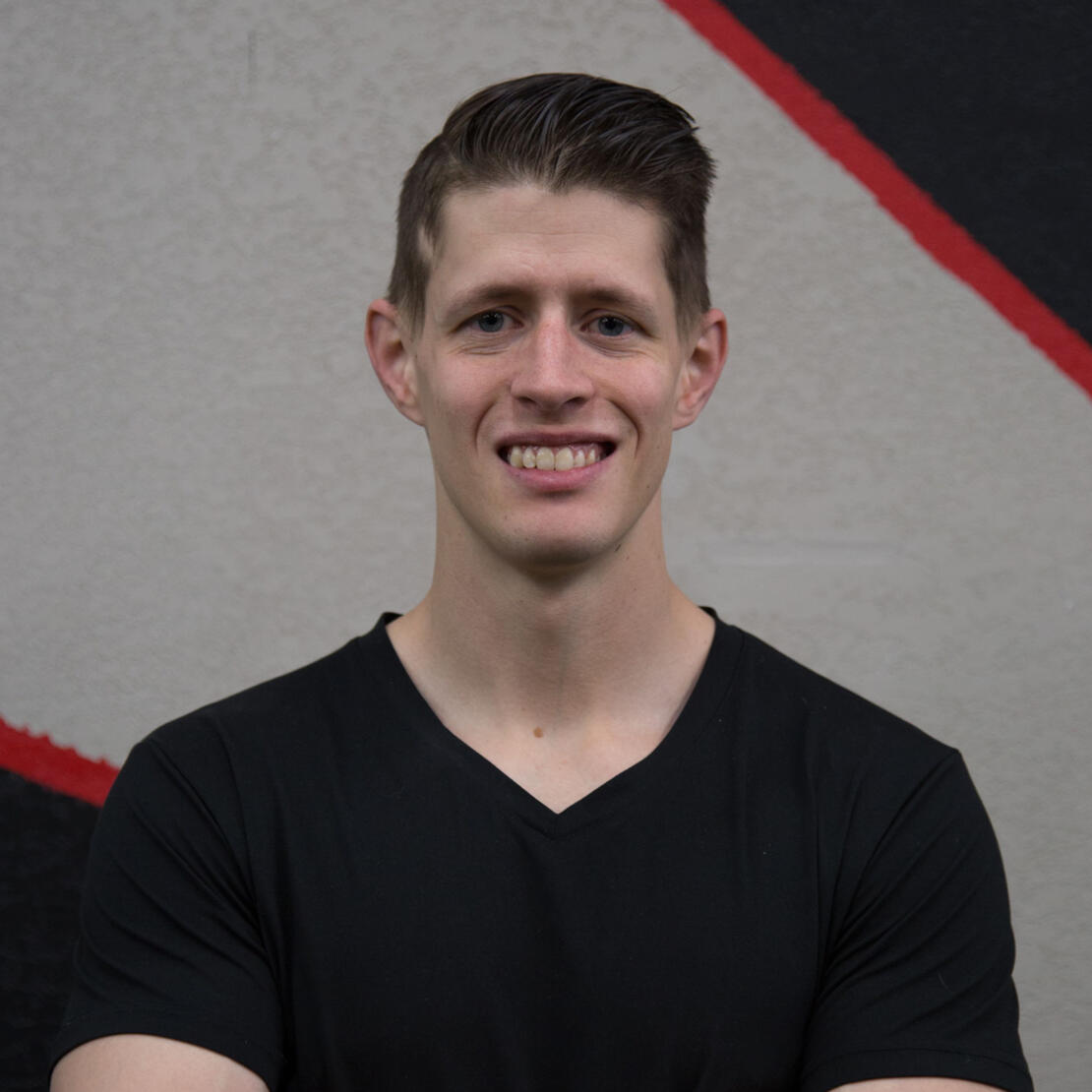 Ben Housman
Bachelor's of Science in Health and Human Performance, FHSUNASM Certified Personal Trainer
Ben's path to becoming a fitness professional began in his hometown, where high school sports were an important tradition of its small community. As he trained for football and track, he developed a deep interest for fitness training itself. This became a desire to help others reach their fitness goals.

With an inclination towards competition, Ben ran track at Fort Hays State University and has also competed in obstacle course races. He enjoys outdoor activities with his wife and serving on the staff of his local church.
Get started
---
Get in touch to set up your initial assessment, or if you have any other questions about how we can help you move and live better.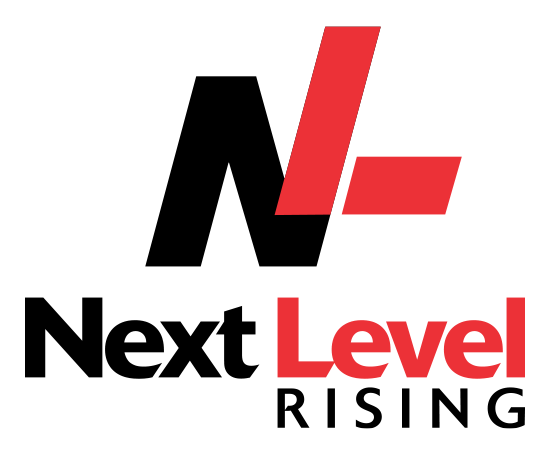 A locally-owned Lawrence original.
You can find us at 711 W 23rd St., Suite 6

NextLevelRising@gmail.com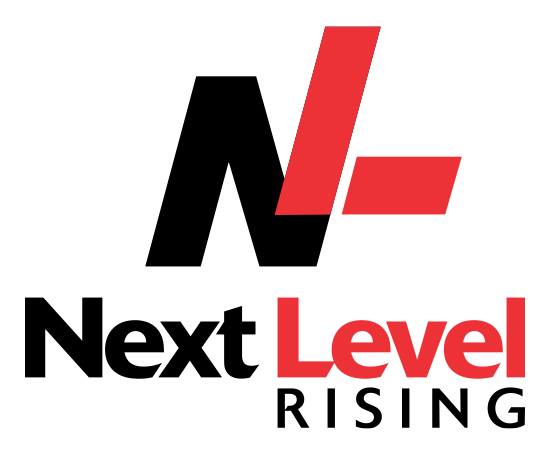 Next Level Rising is now offering group classes!
Classes are offered in 8-week blocks (although drop-ins are welcome).
HIIT Class
Moving your body should be fun! Get back in touch with the you that loved to run, jump, and play at recess with this this high intensity, functional fitness workout. You will get fitter, stronger, faster and tougher than you've ever been before. Get ready to move and have fun doing it. Positive mental attitude required. This class will be held weekly for 8 weeks. Taught by Next Level Instructor Sarah Hinton.

Sign up now! A new 8-Week Block of HIIT starts September 15th!
Time: Saturdays @ 9AM
Class Length: 60 minutes
Special Pricing: $20/session when you sign up for HIIT & 30 Minute Mobility!
Regular Pricing: $15/session
Drop-in Pricing: $20/session
30 Minute Mobility
Learn how to fix what hurts and stay supple for the rest of your life. This class immediately follows HIIT and focuses on head to toe mobility. You'll learn dozens of skills you can use at home to perform basic maintenance on your body and stay feeling young for decades to come. This class will be held weekly for 8 weeks. Taught by Next Level Instructor Sarah Hinton.

Sign up now! Class starts September 15th!
Time: Saturdays @ 10:00 AM
Class Length: 60 minutes
Special Pricing: $5/session when you sign up for 8 sessions each of HIIT & 30 Minute Mobility!
Regular Pricing: $10/session
Drop-in Pricing: $15/session
CRASH! Self DeFitness
Get fit while learning self defense skills! This unique class combines Jiujitsu and Muay Thai fighting styles to give you a great workout and learn to protect yourself. It is instructed by pro MMA Fighter Zakary Bucia, who has over 20 years of martial arts experience and is a 5x MMA Champion. No prior experience is needed. Just come ready to learn! Gloves and wraps will be available for purchase for new members. This class will be held weekly for 8 weeks

Sign up now! Class starts September 25th!
Time: Tuesdays @ 6:30 AM
Class Length: 60 minutes
Pricing: $20/session
Drop-in Pricing: $25/session
Class Signup
---
Sign up below for the class(es) you are interested in. We will be in touch shortly!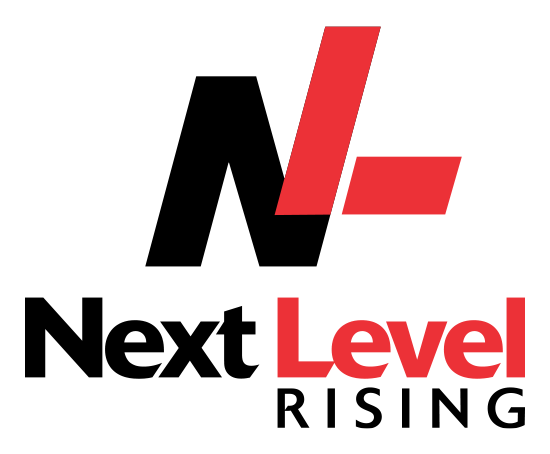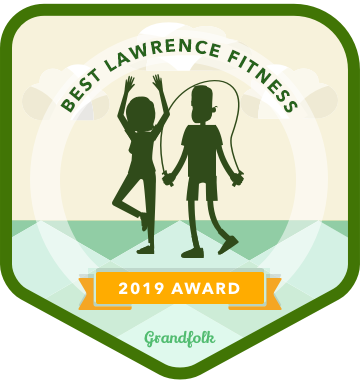 Next Level was awarded "Best Lawrence Fitness 2019" from Grandfolk.com
© Next Level Rising. All rights reserved.